NEW FROM ROBERT BEGIEBING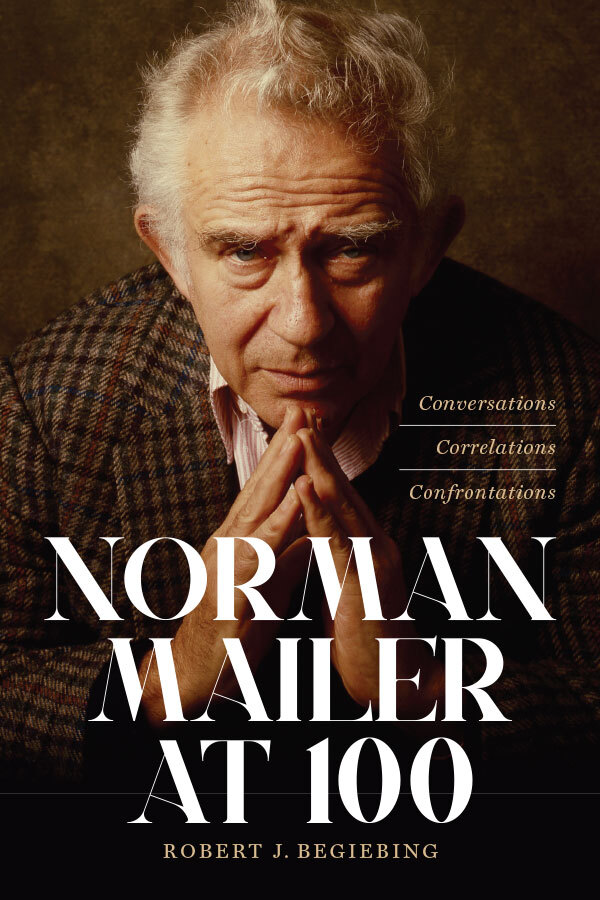 Demonstrating that Mailer (who was born in 1923 and died in 2007) is still a provocative presence in American letters, Norman Mailer at 100 (LSU Press) commemorates Mailer's centenary and the 75th anniversary of his best-selling debut novel The Naked and the Dead. Through six critical essays, two creative dialogues featuring Mailer with Walt Whitman and with Ernest Hemingway, and Begiebing's own interview with Mailer, Begiebing reveals how Mailer's work contributed to shaping the 20th century literary landscape and underscores how Mailer's work can help us confront the challenges of today.
Mailer won two Pulitzers and a National Book Award, among many other awards. Over fifty-nine years, he spent 160 weeks on The New York Times Best Seller List. Begiebing's new book joins an abundance of forthcoming works acknowledging Mailer's 2023 centenary, including American and European documentary films, a television series, two plays, a dozen books, and a celebratory conference held jointly in April of 2023 by the Mailer Society and the Ransom Center of the University of Texas, where the Mailer archives are stored.
"Even beyond the book's dialogues," Begiebing says, "I yoked Mailer with another important author in each chapter: Ralph Waldo Emerson, Carl Jung, Joan Didion, Kate Millett, and Joseph Ellis. I was hoping such a strategy might help us to understand the challenge and reach of Mailer's often controversial thinking. As Toni Morrison said, honoring Mailer at the National Book Award Lifetime Achievement dinner in his honor, 'He is such a carnivorous intelligence accompanied by huge and provocative talent that the history of American literature in the 20th and early 21st century would be both depleted and inaccurate, minus the inclusion of the work of Norman Mailer'."
PRAISE FOR NORMAN MAILER AT 100
"Writing with an unmatched understanding of the rich, deep, and illuminating parallels (and stubborn discordances) between the life and work of Norman Mailer and seven iconic writer-thinkers, Robert J. Begiebing has produced a magisterial work of permanent value, not only for Mailer's admirers but for all who are alarmed at the gap between the millennial promise of American life and its current divided and parlous condition. Especially powerful in this regard is his brilliant evocation of Mailer and Whitman in conversation, and an equally delicious dialogue with Hemingway."
—J. Michael Lennon, author of Norman Mailer: A Double Life
"This groundbreaking study is a crisp, cogent examination of the American legacy of Norman Mailer within the spheres of such towering figures as Hemingway, Didion, Whitman, and Emerson. This colloquy reveals timeless, essential discussions in the stream of seminal American intellectual and aesthetic forces."
—Phillip Sipiora, editor of The Mailer Review
LSU Press Facebook Live Author Series 
Robert Begiebing was featured by LSU Press in their Facebook Live Author Series on Thursday, January 5th, 2023 where he held a discussion and answered questions regarding Norman Mailer at 100. Click here to watch the replay!